'Bhairabsura' the famous hill
The hill 'Bhairabsura' is famous for the name as Lord Bhairab (Lord Mahadeva, Lord Hara, and Lord Shiva etc.). The first Lord of Hindus as per Hindu mythology. There are some statues of Lord Shiva made by stone were recovered at the Peak of the hill whose religious people worship in an auspicious day by climbing so many distances. Such statues were moving underground in course of time. When and by whom such a holy temple was built to pray the first Lord was unknown and beyond imagination. Because it is pre-historic and legendary but factual. It is sure that these was a temple which may be proved by recovered statues where engraved some images of the first lord. We would like to draw kind attention from archaeology deptt. for the sensitive matter.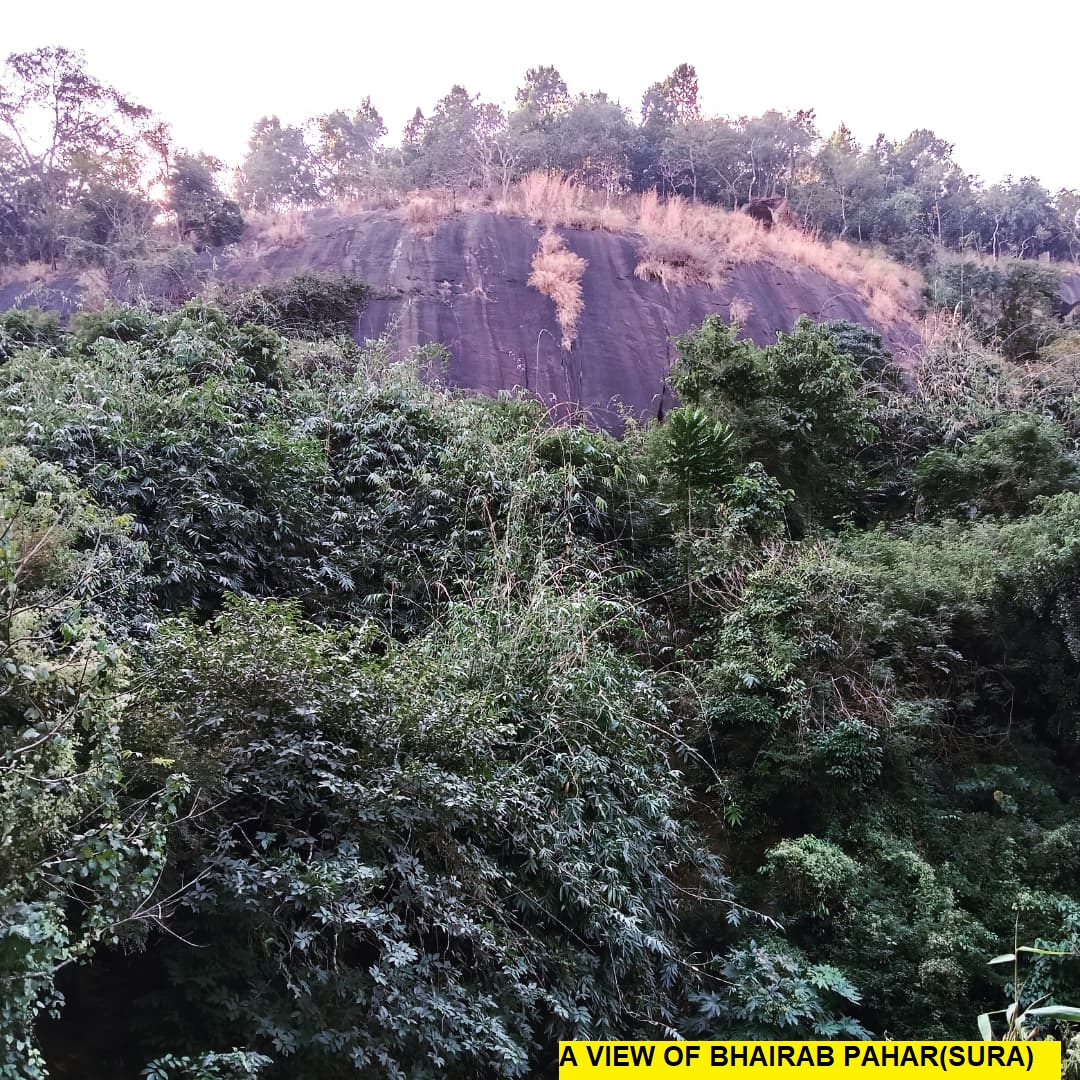 As per a tale in the past at the time of monarchy one of the unknown powerful king came to the hill for hunting. In course of the king reached at the peak of the hill with his all followers when they rode on the back of elephant. They took rest for some time and willing to return. The elephant of the king was sleeping then and the elephant keeper could not come out success to stand the elephant. Al last the king took his prompt decision to spent the night there. At midnight when all of them were sleeping a statue came in front of the king and ordered the king to construct a temple of the first Lord where prayer to be continued. Next morning the king then took necessary step for establishment of the said temple to worship the first Lord and engaged some persons to make it success. As per tale it was the first source of establishment of the holy temple.
Just before year a golden slate with some images of the Lord, so many stone sculptures were found and at present there is a strong executive committee with religious people covering various districts to run the function in a continuous process and to draw the kind attention from Government. At present with co-operation of religious people and through the financial aid from hon'ble Govt. construction of temple and roads partially constructed. Every year religious people worship the first Lord at the peak of the hill in an auspicious day and spent the night there worshiping Lord 'Bhairaba'.