Bagheswari Temple::
Bagheswari temple is the central and oldest Temple of Bongaigaon town area, Assam. According to Hindu mythology, this is the place where Devi Durgas Trishul fell down when her body was cut into pieces by Lord Vishunu just after Dakshya Yagya. This temple is considered as the most visited place in Assam and it has special importance during Durga Mahaashtami when the buffalo's are scarified.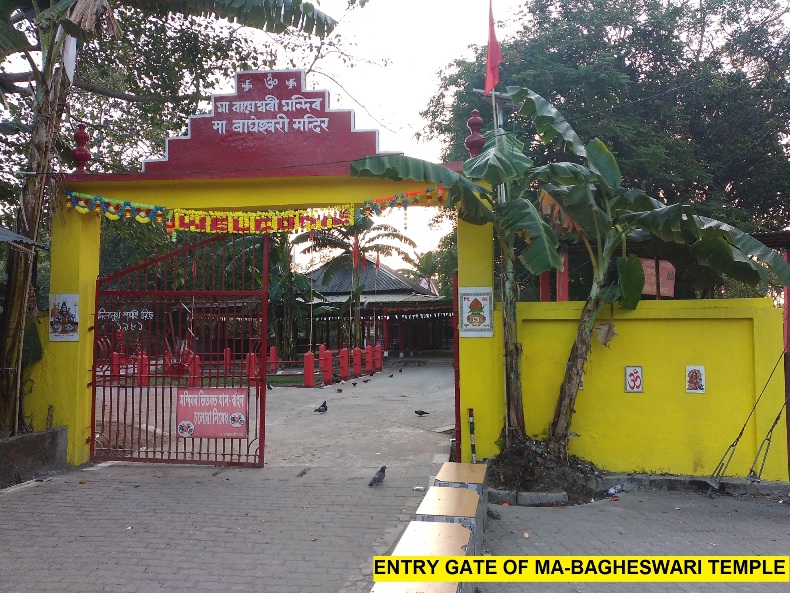 Maa Bagheswari Temple is dedicated to one of the oldest 51th shakti Peeths of Maa Parvati which is situated near Birjhora Hill Bongaigaon town and is surrounded by Birjhora Tea Estate. The hills and tea estate with its lush greenery and serenity adds to its beauty of the temple and leaves the feeling of spirituality in the mind of devotees.
This temple is among one of the oldest and famous temples of Assam having its own historical importance. Beautiful Bageswari Temple has been developed as afforested hillock with a garden and a small artificial lake fed by a perennial stream. The Bhageswari Hill also houses an ancient temple of Lord Shiva inside a stone cave flanked either side by another 2 temples i.e. the temple of Bhageswari Devi and the temple of Baba Tarak Nath. A large number of visitors visit Bagheswari temple every year. The architecture design of this temple is very wonderful. Devotees can feel the presence of Goddess, calmness, and peace.
This is one of the most visited pilgrimage tourist spots in Assam because of its power to connect humans with spiritual beliefs. It has a great importance during Duga Mahaastami which is observed during Durga Pooja one of the biggest festivals of Assam after Bihu( Baisagu) which comes during the October season where the buffalos are sacrificed and devotees from several parts of Assam visit this temple to witness it's power of religious rituals.